Description
Cornell Drawer by Ecology Supplies
Introducing the Ecology Supplies Cornell Drawer – the perfect solution for storing and preserving your insect specimens! These drawers are designed to fit perfectly into Cornell system cabinets and with Cornell system unit trays. Typically used in entomology collections, these drawers are a unique size that is ideal for insect collection and preservation and used widely from personal to professional settings.
Some of the biggest issues that specimen collections face are maintaining a system of organization and long-term preservation and storage. These drawers are the perfect answer! Our Cornell Drawers are constructed for long term insect collection. First, these drawers are made to fit our Cornell Unit Trays for specimen organization. Different sizes allow for endless possibilities of orientation and organization. They are made with the dimensions of it's predecessors so it will perfectly fit in any Cornell system cabinet.
Construction:
Crafted from high-quality materials and built to last, these drawers are an excellent choice for anyone looking to store and protect their insect specimens while also functioning as an elegant display case. Each unit features a two part design, built from pine wood with a glass top and hardboard bottom. With the glass top, the drawers are transparent, allowing you to easily display the specimens inside.
Each drawer has 4 finger indents for an easier time when separating top and bottom.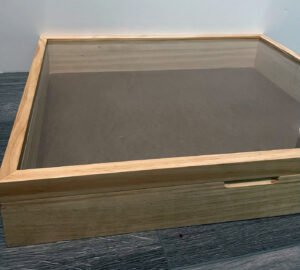 Finishing:
Drawer exterior surfaces are spray finished with sealer while interiors are left unfinished.
Dimensions & Weights:
Outer Dimensions: 19 x 16-1/2 x 3″ (48 x 42 x 7.7cm)
Inner Dimensions: 17-3/4 x 15-1/4″ x 

 2-3/16″ 

 (45 x 39cm)
Shipping weight: 5 lbs.
Organization:
Most collections use our Cornell Unit Trays with this product to organize with ease.  These drawers are similar to what Bioquip has sold in the past
Hardware:
Each drawer is built without hardware, but you have the option of adding hardware based on your needs. All you need is a pencil to line up the holes and a screw driver! It's that simple and allows us to offer such a low price.
Brass hardware that fits a label () with a pull tab.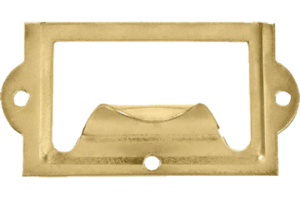 Brass hardware that fits a label () with a pull tab.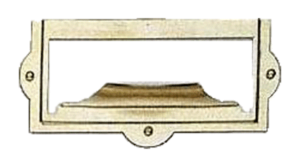 Ecology Supplies Cornell Drawers are not just practical – they're also designed with the needs of entomologists in mind. The transparent drawers make it easy to see the specimens inside without having to open the drawers, which can help minimize handling and potential damage to the specimens.
And with a range of hardware options to choose from, you can easily recreate what drawer works best for you, whether that be with just handles, or with a label card to identify the drawers' contents without having to pull them out.
Overall, our Cornell Drawers are an excellent choice for anyone looking for a durable, versatile, and practical storage solution for their insect collection. So why wait? Order your Cornell Drawers today and start organizing and preserving your collection properly!
We plan on creating Drawers in a variety of sizes to fit your specific needs, if you need a unique size in bulk please reach out. We will be stocking Cal Academy and USM Size drawers in the near future.
We also plan on creating Drawers with foam bottoms to fit customer needs to pin directly in the drawer.